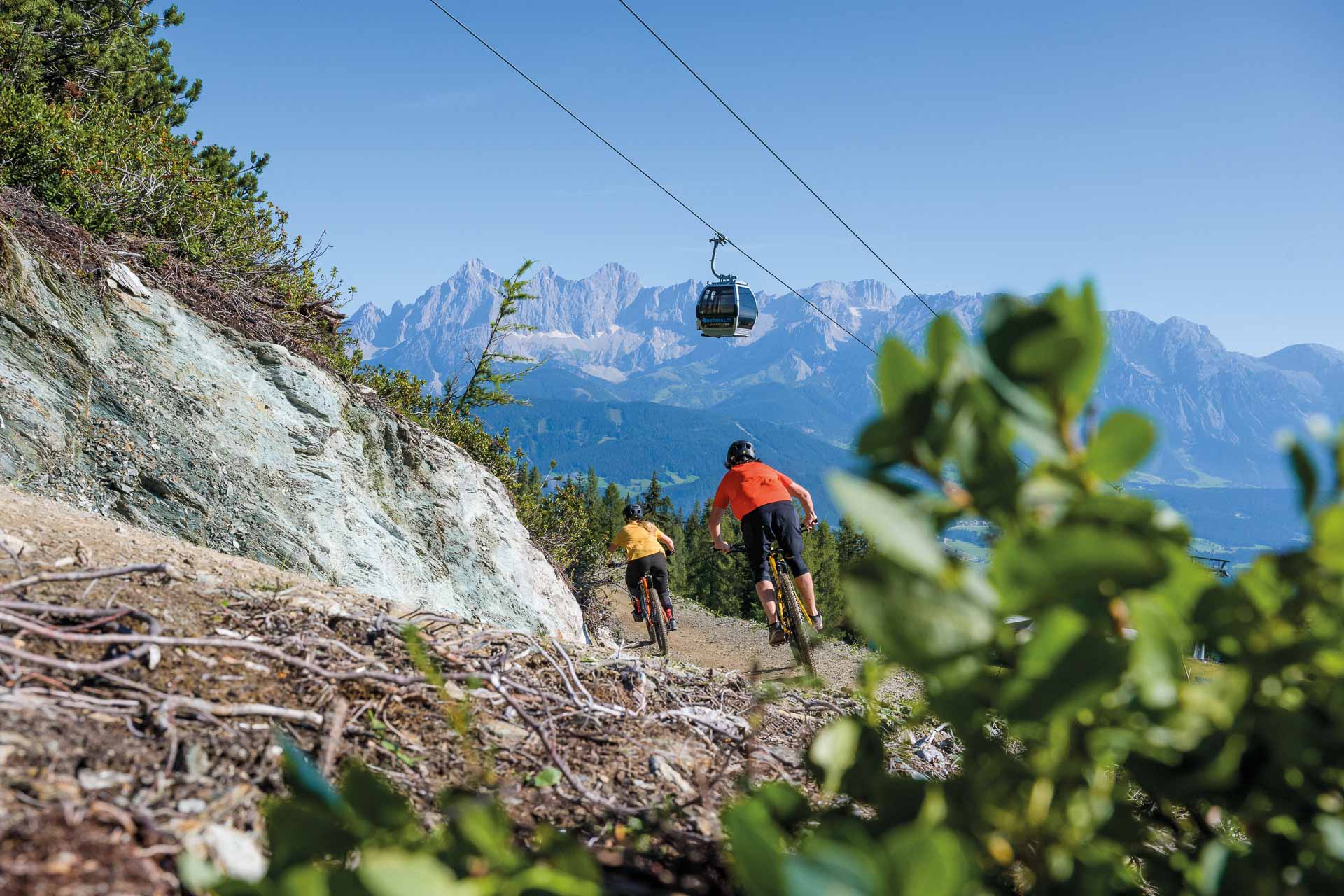 Schladming-Dachstein
55 km of bike trails make the Schladming-Dachstein area an absolute hotspot for all bikers. With 40 km, the Bikepark Schladming offers trail fun for all skill levels. From Jumpline to Flowline, there are trails for beginners, professionals and families. Enduro bikers will get their money's worth on the 15 km Single- trails Reiteralm, from blue to black trails, there is a varied offer that is also well suited for families. For beginners, on both mountains a spot is found at the Reiteralm Junior Trails and the Bike Area on the Planai and of course support by Bike school and bike shops.
For me an effective tool for more time on the bike and an invitation to different bike parks!
For me, the Gravity Card means freedom. Many times I would have thought twice before leaving for a day to visit a park, but with the Gravity Card, I am spontaneous and flexible. Health also benefits, because there is no longer a day ticket that you have to exhaust to the end.
28 bike parks with just one ticket… that says it all… perfect for me, no matter where I'm on the road, with the Cravity Card I always have a park near me… go there, don't wait in line, get started and have fun 🚀
The Gravity Card is the gate way to the majority of Europe's best bike parks all on one card, I already can't wait for a summer of laps at all the different bike parks! I already can't wait for a summer of laps at all the different bike parks!
For me, the big advantage of the Gravity Card is that you can always set off immediately without wasting time at the ticket office. And of course the price is much more interesting for frequent riders!
For me the Gravity Card is pure freedom. I don´t make any pressure on myself for using a single day ticket to the maximum. So I can relax in my van in the morning and go for a ride when I am ready.
For me, the Cravity Card means: One ticket – unlimited possibilities in so many of my favorite bike parks. I can combine the diversity of the different bike parks in my training sessions, spontaneously and without waiting at the ticket counter.
The Gravity Card is the ideal ticket for me, so I can do training laps in different bikeparks. Now also my homespot Bikepark Lienz is a member of the Gravity Card – and this is lit!
I am always on the road – With the Gravity card I have the key to most important bikeparks always with me. I dont´t have to care about tickets any more. And the best thing: the Gravity Card is valid in my homesport Bikepark Brandnertal!
For me the second best invention after the bicycle is the Gravity Card. I can shred easy and without problems in all my favourite bikeparks. I dont´t have to waste time with buying single day passes and don´t have to care about ticket prices! And: my favourite spot Sölden is included as well!
THOSE BIKE PARKS ARE WAITING FOR YOU